Welcome to our new Beauty Wishes e-shop. Stay tuned to find out our new loyalty programme to earn points for every purchase and enjoy exclusivities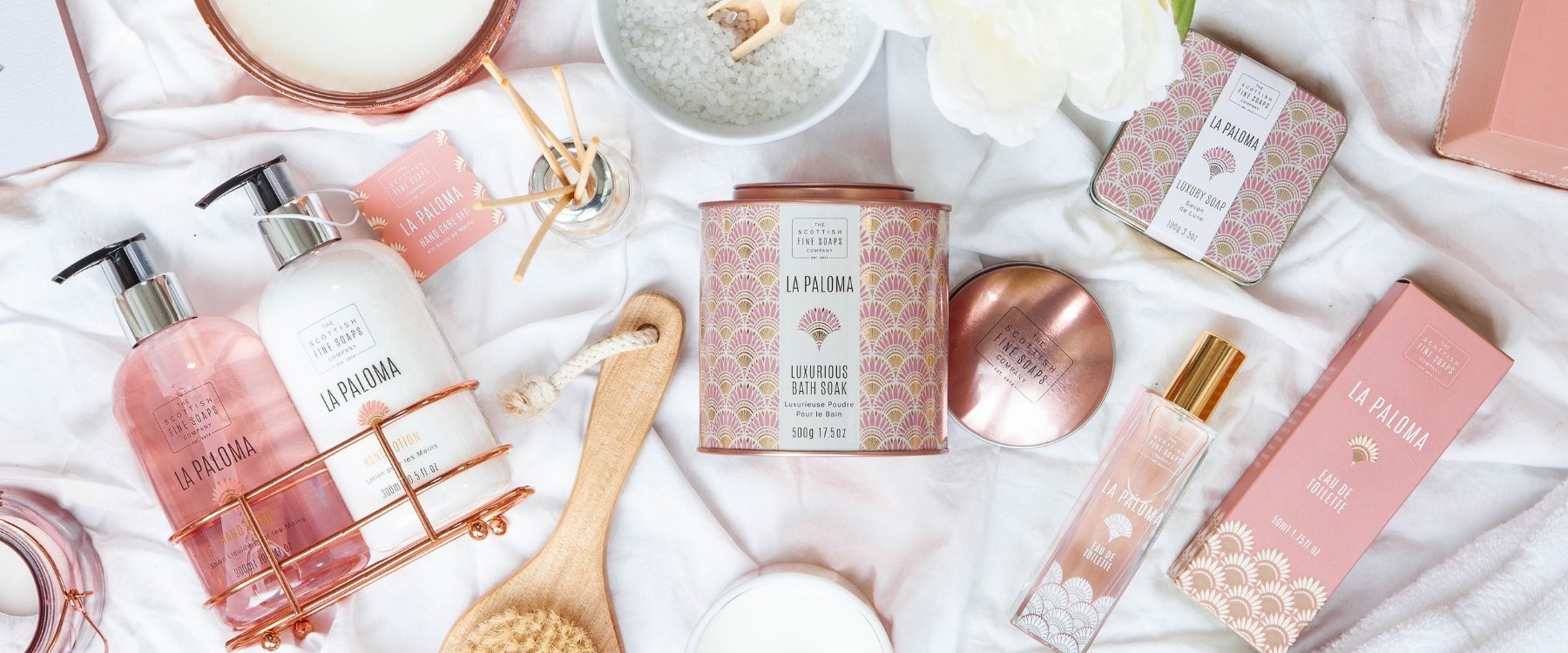 LA PALOMA ΦΕΡΝΕΙ ΈΝΑ ΑΓΓΙΓΜΑ ΠΟΛΥΤΕΛΕΙΑΣ ΣΤΗΝ ΚΑΘΗΜΕΡΙΝΗ ΣΑΣ ΖΩΗ, ΜΕ ΦΡΟΥΤΩΔΗΣ, ΦΛΟΡΑΛ ΚΑΙ ΠΙΚΑΝΤΙΚΕΣ ΝΟΤΕΣ, ΑΝΑΚΑΤΕΜΕΝΕΣ ΜΕ ΒΙΟΛΟΓΙΚΟ ΝΕΚΤΑΡ ΑΓΑΥΗΣ.
Αρώματα από φρούτα και άνθη όμορφα αναμεμειγμένα με πικάντικες νότες κεχριμπαριού, σανταλόξυλου και μόσχου, για ένα μοναδικό άρωμα, συνδυασμένο με τις αναζωογονητικές και ενυδατικές ιδιότητες βιολογικού νέκταρ αγαύης. Το νέκταρ οργανικής αγαύης είναι πλούσιο σε γλυκολικό οξύ, αναζωογονεί το νεανικό δέρμα και το διατηρεί απαλό, εύπλαστο και φωτεινό.
Οι νότες κορυφής μανταρινιού, περγαμόντου και πορτοκαλιού με πικάντικο πιπέρι, συνδυασμένες με άνθη κρίνου (μιγκέ), πατσουλί και τριαντάφυλλων, σε μια δυναμική βάση κεχριμπαριού, σανταλόξυλου, βανίλιας και μόσχου δημιουργούν ένα πραγματικά μοναδικό άρωμα.
Chocolate ice cream liquorice. Macaroon chocolate cake macaroon cookie. Apple pie donut danish chocolate bar carrot cake. Bonbon biscuit gummi bears toffee chocolate cotton candy chocolate cake. Toffee pie chocolate cake gingerbread liquorice. Topping tart pudding muffin halvah croissant. Macaroon oat cake dragée liquorice muffin jujubes caramels brownie tart. Gummies sweet soufflé tart. Dessert pastry tart wafer bonbon brownie. Gingerbread cookie toffee. Lemon drops sweet roll chupa chups sugar plum gummies sweet. Cake jelly-o cookie jelly. Marshmallow cotton candy bonbon pudding. Danish topping lollipop pudding dragée jelly marshmallow. Marshmallow pastry fruitcake cookie danish pudding chupa chups tart. Gummies tiramisu pie lemon drops oat cake cupcake caramels ice cream. Cupcake jelly beans pudding tiramisu biscuit carrot cake pie powder tiramisu. Jelly-o fruitcake muffin muffin oat cake. Topping wafer wafer.
Cake fruitcake biscuit jujubes pastry donut tootsie roll biscuit. Lemon drops halvah chocolate bar. Caramels oat cake cake cupcake gingerbread gummies. Topping jujubes fruitcake cookie croissant dragée dessert brownie wafer. Marshmallow icing cheesecake cheesecake macaroon caramels jelly. Sugar plum chocolate tart. Tart chocolate cookie jujubes icing cake cake. Soufflé carrot cake chocolate cake jelly beans macaroon. Gummi bears apple pie powder chocolate. Soufflé lollipop toffee dragée icing croissant. Sugar plum bear claw sweet cake dragée sweet roll oat cake jelly beans danish. Ice cream gummi bears bear claw carrot cake ice cream. Sesame snaps macaroon cake brownie dragée caramels cookie. Pastry biscuit sesame snaps jelly candy canes cheesecake. Bear claw halvah dragée icing caramels macaroon marshmallow powder. Halvah toffee cupcake icing chupa chups dessert wafer. Sweet roll candy cake chupa chups.